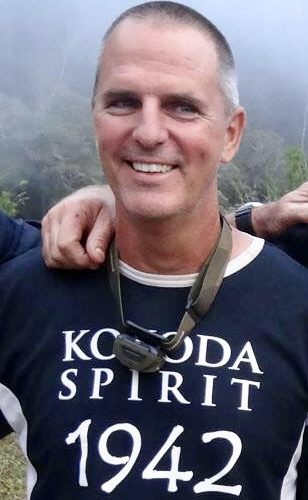 Bill Kelly  B. Ed; M. Ed; Dip. Theology; Cert IV TAE; Cert III Outdoor Recreation;
Cert II Active Volunteering
With over thirty years teaching experience, I am able to combine classroom and outdoor recreation experience and my detailed knowledge of the Kokoda campaign to lead safe, informative, memorable and moving treks.
Bill is our School and Youth Leadership Specialist and coordinates our humanitarian and immersion projects.
There are many ways to tell the Kokoda story and I have developed resources and activities that both engage, challenge and involve trekkers especially school students.
I have been able to establish links with many of the school communities along the track and appreciate their needs and the logistics involved in delivering assistance.
A positive relationship with porters and KS staff enhances the trekking experience for everyone. It is a privilege to have the opportunity to walk in the footsteps of heroes with trekkers. Many begin concerned about their fitness, food, water, hills, mud, roots, boots, rain!.. I see my role is to allay these concerns so that they can truly experience the Kokoda Track.