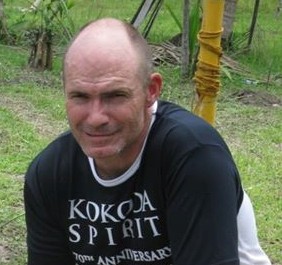 With over 25 years of experience as a senior investigator and intelligence analyst with the Queensland Police Service, Cam has extensive experience in team leadership and risk management.
As the grandson of an original ANZAC and the nephew of a 2/22nd Battalion Veteran who fought with Lark Force in the ill-fated defence of Rabaul he has an ingrained respect for our military forces.
A passionate Australian military history enthusiast and researcher he has acquired an extensive library of over 40 books and copies of all battalion diaries associated with the Kokoda and Northern Beaches campaign.
His history briefings include copies war time maps and personal interviews of veterans.
Cam has an open invitation to all his trekkers who need assistance in researching family members who served in the campaign to ensure they gain maximum benefit from their trek.
His research and extensive campaign knowledge led to the Queensland Police commissioning a memorial to honour one of its own who fell on the Sanananda Track north of Kokoda in 1942.
Cam has been walking the track since 2007 and considers every trek as a privilege.