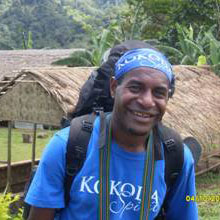 Noel Namuri, is our PNG Operations Manager and is ably assisted by Nathan Saul as our Senior Kokoda Track Trek Master. Noel and Nathan ensure all our logistics and organisational plans run smoothly. They both are very experienced have warm and friendly personalities and will ensure your stay in PNG and your trek across Kokoda is a fantastic experience.
Both Noel and Nathan have completed more than 100 Kokoda Track treks each and are from the Kokoda Track area.
Meleni Dimuda (Mr Bugs) is our Head Cook and ensures all of our Kitchen teams that trek the Kokoda Track are trained to a high standard and are experts at our Kokoda Track menus.
Mr Bugs is assisted with the Menus and traditional food preparation for our Kokoda Trail by Tony Able