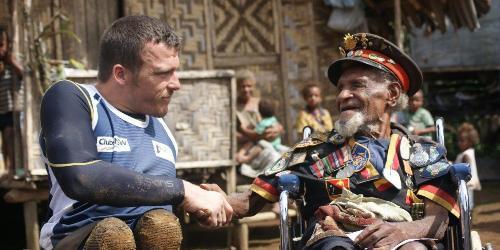 Geographical Location
South of the equator and 160km north of Australia.
Access and Entry Fees
Most land, beaches, lagoons, bays and Islands in Papua New Guinea are owned by a village, family or individual. You must ask for permission for access and a small entry fee may be payable.
Entry Requirements
A 60 day tourist Visa is available on arrival at Port Moresby's Jackson International Airport at a fee of K100. You will need valid travel documents, sufficient funds for your stay in the country and an airline ticket with a confirmed outbound flight before the expiry date of your visa.
Duty Free Allowances
International travellers over 18 years old are allowed general goods up to K250, 200 cigarettes, 1 litre of spirits and a small amount of perfume.
Spoken Language
There are 800 distinct languages in the country and Pidgin English (Tok Pisin) Hiri Motu and English are the most widely used languages. English is the official language in education, business and Government circles.
Religion
Christianity is predominant. Local beliefs and traditions are practised in harmony with Christian beliefs.
Climate
The Country is hot and humid all year round. Temperature average30-34c, with temperatures cooler in the Highlands at night. The dry season varies from province to province, but the driest months are generally May to November, with the wetter months from December to March.
Seasons
Typically, the dry season is between May and October, followed by a wet season in the months of November through to April.
Tax
10% GST is applied to all transactions in shops, hotels, bars, restaurants and clubs.
Tipping
Tipping is not expected, nor is it common practice in PNG, however it is entirely up to you, however a gift can be given if you stay with a village or family.
Trading Hours
Standard commercial trading hours are between Mon-Fri from 8am to 5pm and Saturdays from 8am to 12pm.
Electricity
National power supply is 240 Volts.
Communications
Papua New Guinea has a modern satellite communication system, ISD and STD dialling and two mobile providers, B Mobile and Digicel.
The international country code is 675.
Email and internet services are available at Hotels and resorts.
Currency
Papua New Guinea's unit of currency is the Kina (K), which is divided into 100 toeas(t).
Notes: K100, K50, K20, K10, K5 and K2
Coins: K1, 50t, 20t, 10t, 5t, 2t and 1t.
Travellers cheques and major international credit cards are accepted in major hotels,shops and restaurants. Currency can be exchanged at Brisbane Airport or in the Airport in Port Moresby.
Guides and Safety
It is advisable to use a local guide when exploring in and around towns and villages.
Guides know the local language and will know the places you can safely visit.
Common sense should always prevail, avoid secluded areas, always stay with your possessions and don't travel at night.
Seek advice from your hotel and only use taxis booked by your hotel or reputable person.
Health
Malaria is a major health risk and you should consult your doctor for precautions before arrival. Insect repellent should be used. Doctor and hospital services are available in all major centres.
Dress
Informal with shorts and shirts worn throughout the year as well as traditional clothing, ramis, sulus, laplaps and kolos. Thongs, sneakers, and sandshoes are not allowed in some bars and restaurants. Female visitors are advised to dress modestly.
Good walking shoes are required and in the Highlands a sweater or jacket for the cooler evenings.
Shopping
There are modern shopping centres and department stores, smaller specialist stores and craft outlets, selling toiletries, clothing and souvenirs. Saturday is a half day for most shops and nearly all shops are closed on Sundays.
Most of the Major Hotels have local shops and travel centres.
Village Protocol
Be polite and show respect for local customs and religious beliefs.
Always wear modest clothing when going into towns or villages
If you are in doubt about the correct way to behave, ask a guide.
Don't wander off alone-always take a guide with you. Remember that most land is owned by a community and you need to ask permission first.
Ideal Cruising Experience
The wonders of Papua New Guinea never cease to impress even the most intrepid traveller. Offering a multitude of ideal experiences, the visitors will find a country rich in culture, ethnic diversity and where little has changed over centuries. Cruising Papua New Guinea is relaxing since island life is slow-paced and informal. PNG promises to reward cruise enthusiasts with unforgettable sights and sounds.
Diving
This is home to some of the world's most spectacular diving, dubbed as an underwater photographer's paradise. It is said to have twice as many species as the waters of the Red Sea, and up to five times as many as the Caribbean. The waters are a wonderland of elegant reefs, sunken wrecks, brilliantly coloured coral and marine life. The immense diversity of dive sites includes barrier reefs, coral walls (drop-offs), coral gardens, patch reef, fringing reefs, sea grass beds and coral atolls.
Excellent Fishing
The country's reputation for excellent fishing localities and choices of catch is fully boosted by the wonderful climate.
Surfing the waves
Experience an unforgettable wave-riding adventure in the country's wave-breaking shores. From the breath-taking coastline of Vanimo that stretches down Madang, to the sandy beaches of New Ireland Province, where premiere breakpoints and scenic surfing sites are located.
Bird Watching
Bird watching does not only require dead silence, it provides the opportunity for watches to take in nature's most eerie surroundings and eternal spring, whether up in the Highlands or in a typical tropical weather in the coastal areas. Over 700 species of feathered fliers flutter across our island including 38 of the 43 known species of the exotic Bird of Paradise. Not all the colours of the rainbow have been reserved for our feathered friends as there is an unlimited range of hues and shades to be seen in 2000 orchids and countless magnificent butterflies including the world's largest, the Queen Alexandra Birdwing.
World War II Relics
Relics of World War II battles are found in most parts of Papua New Guinea's land, underwater, caves and tunnels.
Astounding Volcanoes
Located along the Pacific Ring of Fire, Papua New Guinea offers distinct views of active volcanoes that captivate a land of tranquillity. There exists a number of volcanoes in certain provinces, including the latest basaltic stato volcano on Manam Island, Madang province. Other recent volcanic locations include Rabaul's two vocalic cones-Vulcan and Tavurvur – and West New Britain's Mt Pago.
Trekking the rugged terrains.
Trekking in Papua New Guinea is a challenge which portrays the real meaning of adventure in paradise. An extensive network of walking tracks covers most mountain areas, and experience bush walkers are well catered for. The most popular is the Kokoda Track which continues to provide challenges and experiences beyond men's imagination. Others include Mt Wilhelm, Bulolo, Wau and Madang.