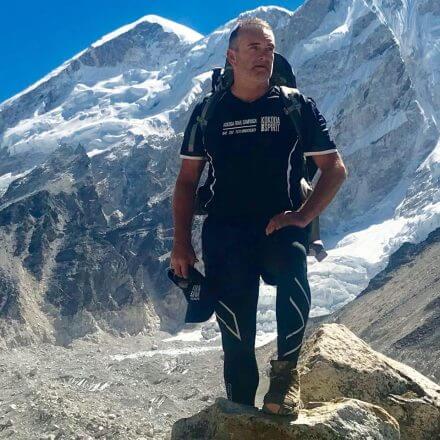 Hello, I am Wayne Wetherall and I am the founder and owner of Kokoda Spirit.
I started in the adventure business in 2004 to follow my passion in seeing others achieve, inspire and challenge themselves. So far …we have seen over 8900 trekkers successfully cross the track!
Kokoda Spirit was built from the ground up, with some of the following key values;
1) Telling the Kokoda story accurately with passion, purpose and significance from the Australian, Papua New Guinean and Japanese perspective.
2) Creating safe and viable opportunities and support for all of our Porters and Guides and the Communities along the track.
3) Professional planning and facilitation of our expeditions with focus on pre trek preparation and safety for our trekkers and expedition staff.
It is humbling and rewarding to see the generosity and Aussie spirit still alive and well today. From the beginning Kokoda Spirit has had strong foundations in assisting charities and organisations that give back to others. Some of these charities include… https://www.kokodaspirit.com.au/about-kokoda-spirit/our-partners-in-adventures/
In the interests of ensuring the long-term protection and viability of the Kokoda Track I have joined the Kokoda Tour Operators Association; I currently serve as Vice President. I want to emphasise the importance of ensuring porters and local employees are given fair working conditions and wages, and that we address the environmental needs of the brilliant jungles of Kokoda.
Some of my proudest achievements to date have been;
• Organising and leading Australian Paralympian Legend Kurt Fearnley as he successfully crawled across the Kokoda track.
• I have worked closely and trekked with Paralympian and Adventurer Michael Milton, Paralympian, Author and Motivational, speaker Don Elgin.
• I have led and trekked with Rugby League Legend, Paul "The Chief" Harragon, NRL Premiership winning players Mark Hughes, Billy Peden, Australian Rugby League representive players David Fairleigh, Kurt Gidley, Mat Gidley, Danny Buderus, Matty Johns, Russell Richardson, Steve Menzies and Brad Godden, Cams Cause and MHF.
• I have led and trekked with Manu Feidel from MKR, Kate Peck model and MTV presenter, Miss Universe Australia Laura Dundovic and Miss World Australia Erin Holland.
• Kokoda Spirit has also been privileged enough to be the chosen trekking company by the producers of "Kokoda" the movie and has appeared on Channel Seven's Sunday Night Program and Channel Seven's Today Tonight program.
• Journalist and television presenter, Simon Bouda, Channel 9, chose Kokoda Spirit to assist with live coverage of 2017, 75th Anniversary ANZAC Day ceremony at Isurava Memorial.
• I rode from Brisbane to Townsville in 8 days averaging over 200km per day.
• I caged dived with the Great White sharks of Port Lincoln and I have thrown myself out of a perfectly good plane skydiving 4 times.
Some of my Current trek Stats:
• 95 crossings of the Kokoda Track, including the first Kokoda Coast to Coast crossing from Buna on the North Coast to Port Moresby, a triple Kokoda crossing, a fast two-day, Kokoda crossing, the race distance, 2 nights 3 days Kokoda Ultra Marathon on three occasions.
• Everest base camp – 6 treks
• My Kilimanjaro – 6 summits
• Mt Kinabulu – 13 summits
• Mt Fuji (Japan) – one summit
• 12 treks across the infamous Sandakan Death March in Borneo including the Borneo Coast to Coast Challenge.
I would like to sincerely thank those who have trekked with me, walked along side me and helped me to help others succeed. To watch others, achieve what is sometimes an extraordinary lifetime dream or what once would have been an impossible task is absolutely mind blowing. I am continually inspired by the people and the stories I am surrounded by. One thing is for sure… likeminded people come together in challenging circumstances, and at times I am privileged enough to witness lives changing. Trekking is an empowering lifestyle, how lucky am I.