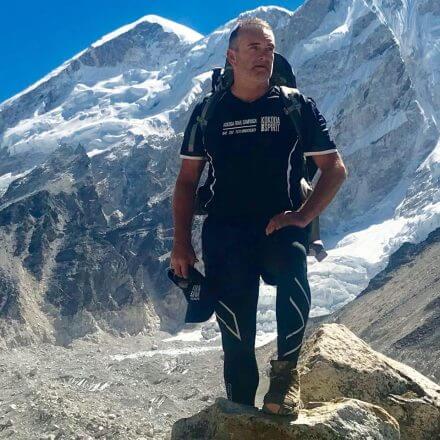 Adventurer, businessman, founder, head guide and owner of life changing and empowering adventure and leadership companies, Kokoda Spirit, Kokoda Xtreme and Wild Spirit Adventures.
Wayne Wetherall is also the founder and race director for the Kokoda Ultra Marathon and the incredibly challenging Kokoda Coast to Coast Challenge.
Wetherall also led Paralympian Legend, Kurt Fearnley as he crawled across Kokoda.
Kokoda Spirit is Australia and PNG's most respected and professional company trekking the Kokoda Track.
Kokoda Spirit has been operating in PNG since 2004 and has successfully taken over 8400 trekkers across the track.
His companies specialise in organising and leading military and para military groups, school groups, sporting teams, corporate groups and individuals across the famous and iconic Kokoda Track.
Kokoda Spirit and Wayne Wetherall has helped to organise and lead a host of corporate groups, school groups, defence groups, charities, individual clients and celebrities across the Kokoda Track.
His companies deliver life changing and empowering adventures specialising in leadership and personal development programs.
Just some of Wetherall's adventure highlights have included over 91 crossings of the Kokoda Track, including the first Kokoda Coast to Coast challenge crossing, and has led more than 118 expeditions including Kokoda, Borneo, Nepal and Kilimanjaro.
Wetherall has completed a continuous triple Kokoda crossing, a fast-two-day Kokoda crossing, a double back to back crossing of Kokoda in 6 days and the race distance 2 nights 3 days Kokoda Ultra Marathon.
He has led 12 treks across the infamous Sandakan Death March in Borneo including the Borneo Coast to Coast crossing and has summited Borneo's highest Mountain, Mt Kinabalu 13 times.
He has summited Mt Kilimanjaro in Africa on 5 occasions, climbed Mt Fuji in Japan and lead 5 expeditions to Everest Base Camp.
He has completed a 1600km bike ride from Brisbane to Townsville in 8 days averaging over 200km per day.
He has also caged dived with the Great White sharks near Port Lincoln and thrown himself out of a perfectly good plane skydiving 4 times.
Wayne is foundation member of the Kokoda Tour Operators Association and a member of the Australian Institute of Company Directors MAICD.