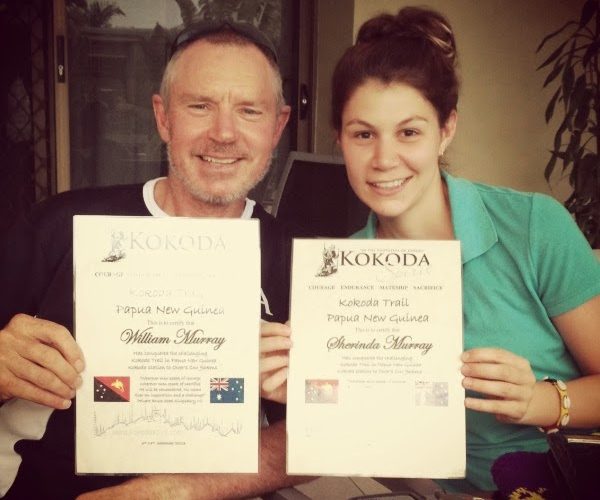 Cherry-Anne Lees
For me and three close friends, the Kokoda Trail was an experience that no one else can understand unless they too have walked the 96klms. For me it was about achieving a personal goal, honouring both my Grandfathers and cementing friendships forever. I recommend Kokoda Spirit to every person who believes they already know their own limits in life; you may just be surprised.
Kristy Bourke
It changed my world gave me the courage to stand alone where I didn't want to before – the knowledge that as long as one foot moves in front of the other everything will be ok – reverence for the people who made that track legendary and so much more its hard to find the words to describe it – the track porters people trackers I learnt something from all of them. Couldn't have spent my time energy or cash on a more fulfilling adventure
Dianne Galea
"Agreed. U find strength u never thought u had, u look out for yr mates , u learn to sacrifice and understand what those lads sacrificed for us, it takes courage to start and endurance to finish. Walking in the footsteps of our heroes is an honour id recommend to all & it will teach u so much about yourself. U can do anything in life if u want too. Can u tell I'm passionate about Kokoda? Do it!!!"
Peter Sergeant also wrote of his Kokoda trek.
Walking Kokoda is a blueprint for life. It will take Courage – to be you. Endurance – to go on when others and even you tell you to stop. Sacrifice – to put the needs of others before yours and Mateship ….. To care for those around you, even those you don't know or like. Do it for yourself and for those who gave their all in 1942.
Hi All, I just thought I would give you a quick email to let you know we arrived safely back in Brisbane last week.
But most importantly on behalf of my Dad and I, we'd like to say a massive THANK YOU to the whole Kokoda Spirit team for allowing us to experience this adventure safely and enjoyably.
You definitely assisted us from the beginning to end.
From booking, to payments, to equipment, to hotel bookings, to even assuring my family and friends that we were all safe and well while we were trekking.
While on the trek we encountered some of the most phenomenal experiences which will be cherished for a lifetime.
We can't speak highly enough of our trek leader John Scott. As our tour guide he did an exceptional job. This also goes for our personal porters who made our experience much easier by assisting us with the slightest things which really made a huge difference.
They truly do go above and beyond what is expected in our eyes. Always happy to help. Our chef and general porters were again incredibly helpful and ensured our safety at all times.
I have attached a few photos below for your viewing of our adventure. I hope you enjoy them. And again, a massive thank you to your Kokoda Spirit company personal here in Australia and John Scott and the rest of the porters. An experience we will never forget.
Sherinda and William Murray.
Visit http://www.kokodaspirit.com